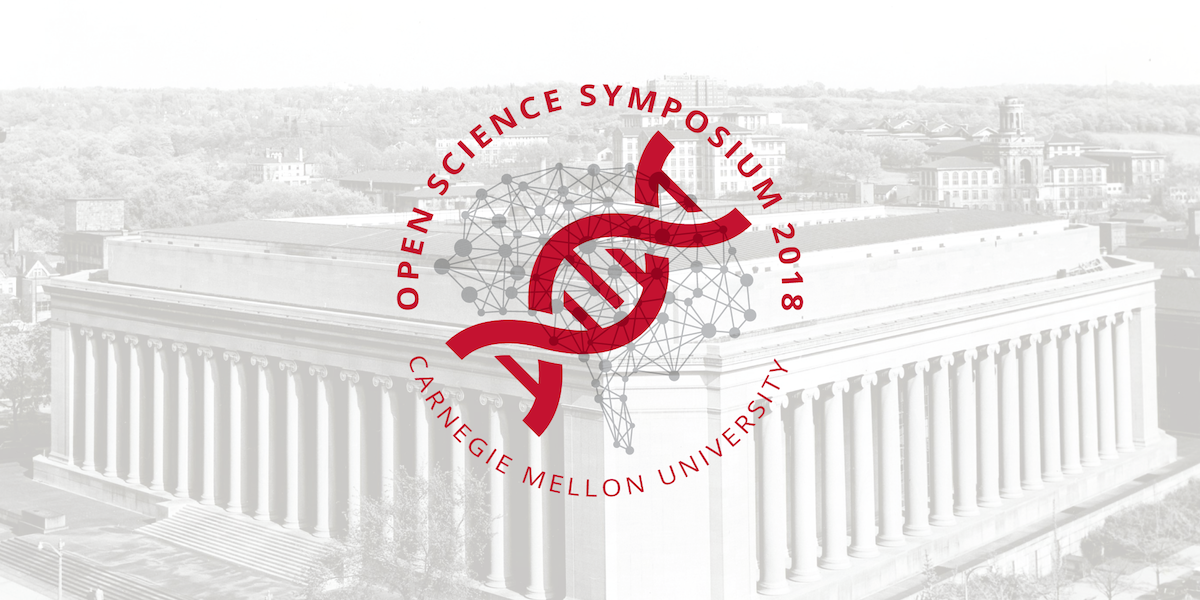 ABOUT
We are excited to invite all students, data users, and researchers to join us at the first CMU Open Science Symposium, taking place at the Mellon Institute of Carnegie Mellon University in Pittsburgh. The symposium will build awareness and support for the adoption of open research practices, and encourage innovative ideas about data sharing in the life sciences and related disciplines.
At the symposium, researchers, publishers, and data service providers will share success stories, discuss challenges and solutions in open research and data sharing, and offer hands-on workshops and demos to help researchers get started with reliable open science tools.
This dynamic and interactive symposium will accelerate interdisciplinary collaborations among Carnegie Mellon, University of Pittsburgh, and other institutions. In addition to engaging in conversations during panel discussions, coffee breaks, and the reception, participants will have the opportunity to directly connect with each other in a "Scientific Speed Dating" event.
We look forward for you to join us at this fun, stimulating, and rewarding 2-day event!
Registration deadline: October 12, 2018.
Register soon to secure your spot at the symposium and workshops!
October 18 - Symposium
| | |
| --- | --- |
| 8:00 – 9:00 | Breakfast and Registration |
| 9:00 – 9:10 | Opening Remarks: Dean Rebecca Doerge |
| 9:10 – 10:35 | Session 1: Open Science in Research |
| | Josh Siegle - Allen Institute |
| | Denise Cai - Mount Sinai |
| | Anisha Keshavan - University of Washington |
| | Vaughn Cooper - University of Pittsburgh |
| 10:35 – 10:55 | Coffee break and Networking |
| 10:55 – 12:20 | Session 2: Open Data and Reproducibility |
| | Victoria Stodden - University of Illinois Urbana-Champaign |
| | Nick Nystrom and Paula Buitrago - PSC |
| | Joe Marks - CMLH |
| | Dan Valen - FigShare |
| 12:20 – 13:30 | Lunch and Networking |
| 13:30 – 14:55 | Session 3: Open Tools and Platforms |
| | Ben Busby - NCBI |
| | Sean Davis - NCI |
| | Idan Gabdank - ENCODE DCC |
| | Ariel Rokem - University of Washington |
| 14:55 – 15:15 | Coffee break and Networking |
| 15:15 – 16:20 | Session 4: Open Access |
| | Maria Guerreiro - eLife |
| | Gabriel Gasque - PLOS Biology |
| | Reinhard Schumacher - Carnegie Mellon University (arXiv) |
| 16:20 – 16:30 | Closing Remarks: Dean Keith Webster |
| 16:30 – 18:30 | Scientific Speed Dating and Reception |
October 19 - Workshops
Time
Track 1
MI 348(Conference Room)
Time
Track 2
MI 328 (Social Room)
10:00 - 12:00
Code Ocean: Preparing your data and code for reproducible publication: A hands-on workshop for researchers
10:00 - 12:00
Bioconductor
12:00 - 14:00
Lunch and KiltHub Deposit-a-thon
--
14:00 - 16:00
PSC: Open Science on Bridges
14:00 - 16:00
ENCODE DCC (20 participants max): ENCODE pipeline development framework: making your computational analysis scalable, reliable, portable and reproducible
16:00 - 18:00
16:00 - 17:00
Lightning talks: BenchSci, Protocols.io, Open Science Framework